Professional Gutter Installation & Repair Services
Whether you need new gutters installed or your existing gutters need repair, The Roofers can help. We provide South Dakota homeowners with high-quality seamless aluminum gutters for a great price. Our sturdy gutters and downspouts will reliably sweep rainwater away from your home, helping to protect the overall structure from water runoff.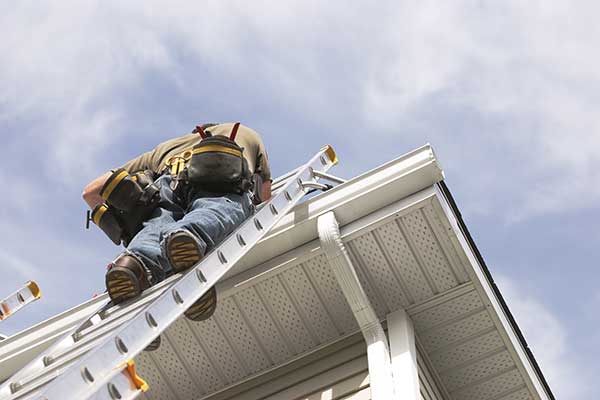 Without gutters, your home is at risk for serious water damage and related issues. Don't let that happen. Get in touch with The Roofers today for a free estimate on our gutter installation or gutter repair service!
High-Quality Seamless Gutter Systems
Our seamless aluminum gutters are a high-quality option for a new gutter installation. This gutter system minimizes leaks thanks to its seamless construction. Old gutters would be installed piece by piece along the side of the home, leaving many gaps in the design for water to eventually find its way through. The more advanced way of doing things is to custom-cut the aluminum gutter to fit your home exactly. Seams are only needed at the corners of a seamless system, drastically reducing the chance of leaks occuring.
Signs You Need Professional Gutter Repair
Leaking gutters
Rusting gutters
Chipped paint around gutters
Holes or cracks in gutters
Gaps between gutters
Pools of water around the foundation after rainfall
Contact Us for a Free Gutter Estimate Today!
The Roofers would be delighted to provide you with a high-quality seamless gutter installation or gutter repair, if possible. As experienced roofing and gutter contractors, we know how to handle gutters properly, without damaging the area of the roof they're attached to. If you're ready for a free consultation and estimate, get in touch with us today! Call us at (605) 881-9770 or fill out the contact form to send us a message and we'll get back to you ASAP.